In this post, we will talk about Pole Erection Machine and we also discuss Pole Erecting. Pole Erector Machine and Pole Erecting are two related topics that we will cover on this page. Here you will also learn about our pole erector machine price and we will explain different pole erecting methods.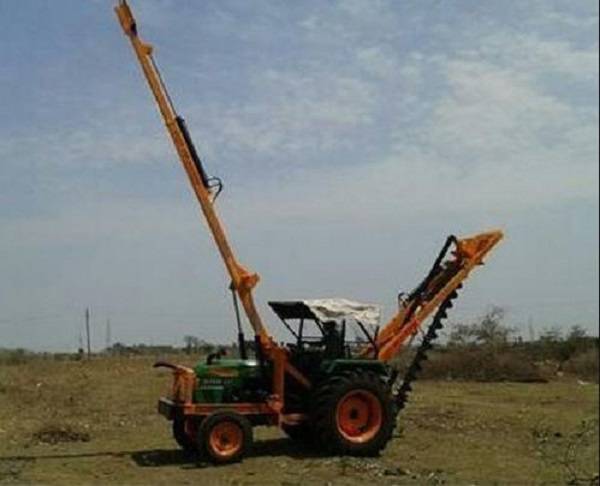 What is a Pole Erection Machine?
Pole Erection Machine, also known as Pole Erector Machine is employed in digging the hole for various commercial applications. One of the applications of pole erection machines is to dig holes for electricity poles and all related installation work. The pole erection machine, in simple terms, is a tractor-mounted pit digging machine which can drill holes of up to 15 meters.
The pole erection machine also works if you want to plant trees, erect the telephone pole, boundary poles, or any other pole for that matter. We take pride in our quality of work and we are happy to inform you that you can use our machine for lifting heavy weights as well
MMS Industries provides best-in-class advanced pole erection machines with unmatched quality and unmatched price. We never compromise on quality. Quality is our identity. With our decades-long experience, we manufacture a premium range of pole erection machines supplied all over India. We can design and manufacture pole erection machines as per your specification. Please contact us with your requirements. You can reach us on the number below or using the contact form here on our website.
All over India, MMS Industries is one of the best organizations engaged in manufacturing, polishing, tuning, servicing, and marketing excellent quality Pole Erection Machine. MMS Industries is also the manufacture of many different other agriculture equipments. Please do not forget to check out our double digger, ring pit digger, a post hole digger, and their price. Here is the link to our article describing double digger, its functions, and price.

Features
We provide ultra-contemporary Pole Erection Machine for our customers. Our product is manufactured with the highest quality parts and guarantees long-term usage. Even though, we can assure you that our products are available at an unmatched price. Following are some of the features of our pole erector machine:
Quality Parts
Premium Quality Lever. No need to worry if you use the machine very frequently.
Exceptional Quality of Hydraulic Hose Pipe. Ensures great performance over the long run.
Superior Quality of Hydraulic Jack.
Comfortable, safe, and easy operation.
Three boom system.
Works on all soil types. You do not need to worry if it is hard soil or rocky soil.
Custom Colors. If you prefer eye candy.
Please contact us for full specification of the product.

Advantages
Longer service life of the machinery.
Higher Profit Margins to the contractors.
Low Maintenance to the owners.
Dimensionally accurate and well designed
Very Fuel efficient.
Higher number of pole erections per day.
Usage
The machine is tractor operated. We can design and customize each machine for our customers. We have experience in designing and manufacturing machines for electrification projects, agriculture projects, solar poles, planting trees, and many others.
Our machine is very productive and very efficient in the field. It consumes very little time for the whole process of pole erection. The high productivity and time savings leads to huge cost savings. We estimate that the whole process of pole erection takes about 2 people. This is 7 times less than the manual operation which can take 12 to 14 people.
As we mentioned earlier, the productivity is really high for our premium quality pole erection machine. Given the labor, the machine works at a high speed. It takes about only 15-20 minutes of labor to erect the pole. All of these qualities of our machine will help you to reduce your project time significantly.
Please note that the hole digging takes only about two to three minutes and the remaining process of pole erection takes another 10 to 15 minutes. This is possible because of the quality of material we use in our product. One of the most important parts of any pole erection machine is the auger. Our machine comes with a sharp auger that helps in digging holes really fast.
Applications of Our Machine
Street Light Poles.
Telephone Poles.
Boundary Poles.
Solar Poles and Panels.
Agriculture Farm Fencing.
Electricity Poles.
Planting Trees.
Industrial Fencing.
VCB Installation.
Wire Drum Loading and Unloading.
Rural Electrification.
Lifting Heavy Weights.

About MMS Industries, Khatauli
MMS Industries is one of the leading organizations manufacturing, servicing, and marketing agriculture equipment since 1985. MMS Industries supplies the finest range of agriculture equipment at unmatched price and quality. We are identified by our quality of product and quality of service since our inception in 1985. With over 35 years of experience in the agriculture industry, we got an eye for detail when it comes to agriculture equipment. Moreover, we have experience in manufacturing post hole diggers, PTO pulleys, ring pit machines, double diggers, pole erection machines, and much more. We use premium quality high-grade raw materials in all of our products. MMS Industries is widely known in the industry because of our high quality product, unmatched prices, our best-in-class after sales service, our business ethics, and our customer-at-heart approach.
You can contact us on the number on the sidebar or this page. If you prefer email, please contact us using this form.